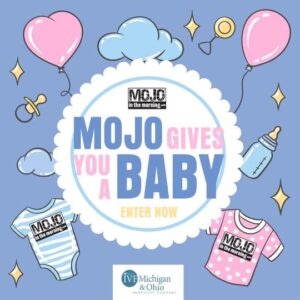 IVF Michigan & Ohio Fertility Centers have teamed up with Mojo in the Morning and Channel 95.5 for the "Mojo Gives You a Baby" Contest.
We are thrilled to share the news that three amazing couples have won the contest to receive free IVF treatment by Dr. Shamma! This is a life-changing opportunity for these couples who have been struggling with infertility and dreaming of starting or growing their families. For these couples, the opportunity to receive free IVF treatment is not just about the medical procedure itself, but also about the hope and excitement. This is a chance for them to take a step forward in their journey towards parenthood and to create the family that they have always dreamed of.
TOP 3 WINNERS
Kylee & JP- Grand Rapids, Michigan
My husband and I are starting our 3rd year of trying. There doesn't seem to be a reason they can give us as to why it's been such a difficult journey. I will be 34 this August and my husband 36 in September. We are celebrating 6 years of marriage/ 12 years of being together on March 4th. We are ready to start our family. I've always felt I was meant to be a mom as I helped many of my friends and family raise their children. I am " Auntie Ky" to many blood related and non blood related kids! My husband is a tap dance teacher, and his students of all ages simply adore him. We are ready for the wild journey of parenthood, and loving a child!
Lauren & Josh – Auburn Hills, Michigan
My wife and I have wanted to be parents since we got married. Unfortunately, we are not able to conceive kids naturally and that has been really hard and emotional for us. We have been working multiple jobs to one day afford IVF. Winning this would be a miracle! To be able to proceed with our fertility journey without the financial burden would be amazing.
Lacey & Jerry- Fenton, Michigan
Jerry and I have been together for ten years and for the last five, we have been trying to get pregnant. Since we met, we always knew starting a family was a shared dream of ours. The last few years have been exceptionally difficult, as Jerry and I were both essential workers during the COVID pandemic. This presented us with several barriers due to COVID exposure, having to quarantine on multiple occasions to ensure we kept one another safe, as well as those we worked with. This significantly limited our window of opportunity to conceive. In addition to the barriers, we faced due to the pandemic, I also have PCOS, which has presented another obstacle in our fertility journey. Over the past 3 years, we have been collaborating closely with our doctors, trying medications and treatments to help us conceive. Each month we hold our breath waiting to see if we are pregnant.Month after month, we are met with disappointment. We have so much love to give, and winning this contest would give us a wonderful opportunity to have the family we always dreamt of.